It was an honor
Crestline Experimental Dive Unit
A very special Thank You to
Christian J. Lambertsen, M.D.
for the time that you spent with me,
and for all that you have given our country over the years. It is sincerely appreciated.
-Robert R. Iannello, D.D.S.
(Major, USMC, Ret.)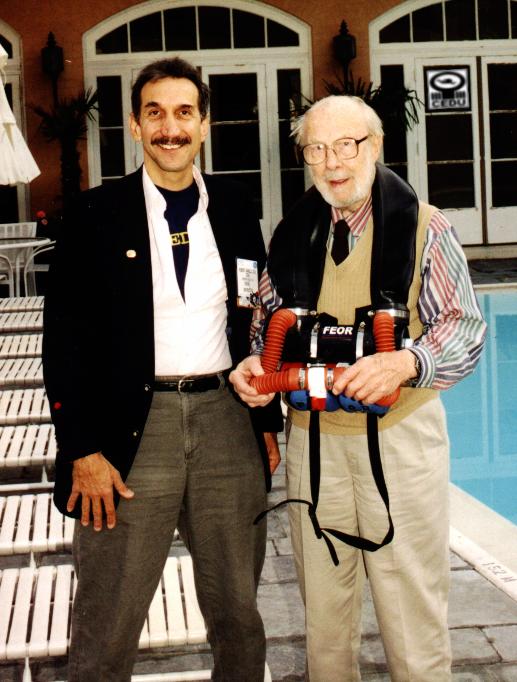 "To Swim Is Human, To Dive Is SUBLIME"


Dr. Lambertsen received
the
2000 Historical Diver Magazine
Diving Pioneer Award
at the
Academy of Underwater Arts and Sciences
Awards Banquet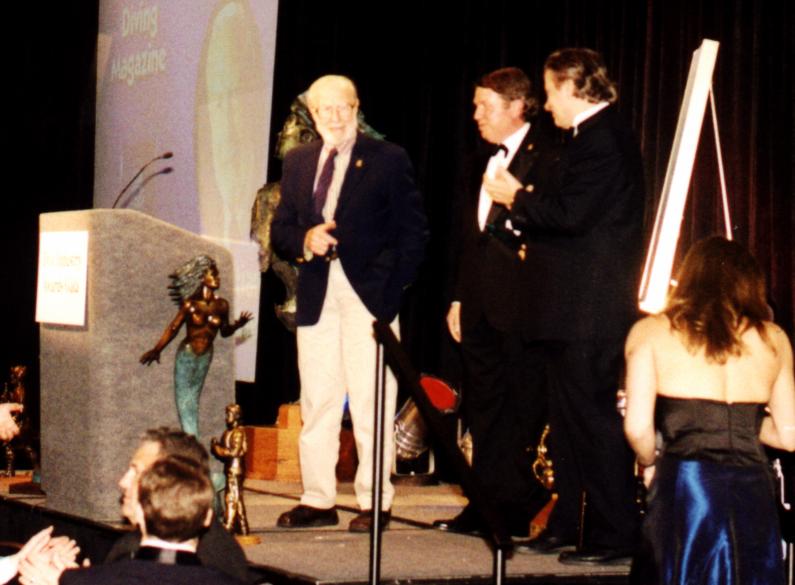 (Dr. Lambertsen, Leslie Leaney, Phil Neytten)
Some Links you might find of intrest relating to Dr. Lambertsen:
Link #1 A Bio from the Naval Forces Under The Sea: Yesterday, Today and Tomorrow Symposium
Link #2 Institute for Environmental Medicine
Link #3 A listing of his Publications A listing of research papers which includes...
" Lambertsen CJ. A diving apparatus for life saving work. JAMA 116: 1387-1389, 1941."
Research we have all benefited from. And it continues to this day!
---
(Links To These 2001 Rebreather Party and DEMA Pages)
Page O, Ms. February
Page 1, Rebreather Party After Action Report
Page 2, Speakers and Attendees
Page 3, Hardware from Party and DEMA
Page 4, FEOR Training at DEMA 2001
Page 5, A Thank You to Dr. Christian J. Lambertsen, M.D.



More information about Rebreathers/SUBLIME/and the CEDU can be found starting at Dr. Bob's The Home Page



"To Swim Is Human, To Dive Is SUBLIME"
And Remember CEDU's Mission Statement:
"To Design, Assemble and Use Homemade Dive Gear While Maximally Stroking Our Own Ego's and Maintaining the Merest Semblance of Sobriety for the Benefit of Mankind"