Crestline Experimental Dive Unit
presents the
2001 Rebreather Party

As promised, the Crestline Experimental Dive Unit presents the following web pages of the 2001 Rebreather Party. Included are some pictures of People at the Party, Rebreathers (at the party, and at the DEMA Show), FEOR Training, and
a Diving Pioneer / NOGI Award Winner.

( There are five image intense pages that follow.
They may be slow to load on your computer,
So sit back, relax with a favoriate brew, and enjoy.)

But First

Due to the warm reception Ms. January received, the CEDU has been encouraged to continue to offer Screensavers to Rebreather Divers. So it is with great pleasure to present....

Ms. February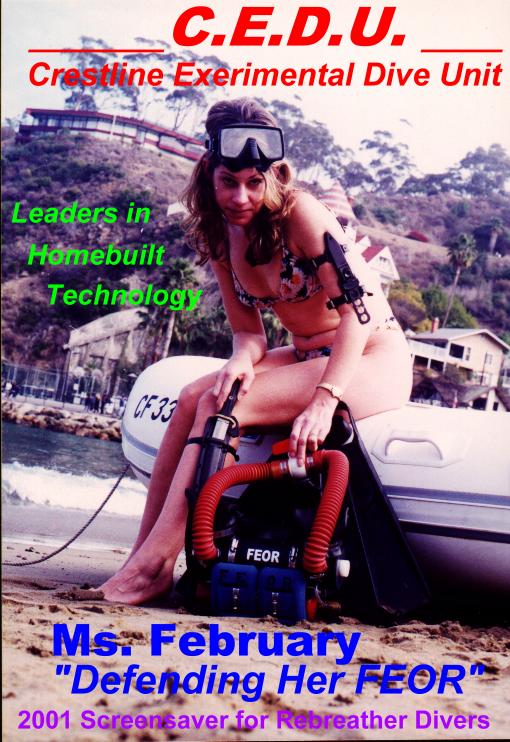 Ms. February says,
"Don't even Think about getting your hands on My FEOR.
If you want one, make one yourself."

P.S. I cannot confirm or deny the following, but word has it that Instructors at
"Very Elite Military Combat Swimming Schools" have been heard verbally scolding some students for
their "poor performance" by stating that they
"Couldn't outswim Ms. January in a Homebuilt".
Woe, be those students..

Now On With The Presentation
---
(Links To These 2001 Rebreather Party and DEMA Pages)
Page O, Ms. February
Page 1, Rebreather Party After Action Report
Page 2, Speakers and Attendees
Page 3, Hardware from Party and DEMA
Page 4, FEOR Training at DEMA 2001
Page 5, A Thank You to Dr. Christian J. Lambertsen, M.D.




More information about Rebreathers/SUBLIME/and the CEDU can be found starting at Dr. Bob's The Home Page



"To Swim Is Human, To Dive Is SUBLIME"
And Remember CEDU's Mission Statement:
"To Design, Assemble and Use Homemade Dive Gear While Maximally Stroking Our Own Ego's and Maintaining the Merest Semblance of Sobriety for the Benefit of Mankind"