Crestline Experimental Dive Unit
presents the
2001 Rebreather Party
After Action Report
What can I say, it was The place to be, and the highlight of the DEMA show. Great food, I mean Really Great Food: the best catering to date. Have we got oysters, . . . I lost count after the second dozen Oyster Rockerfeller's. Exquisite Hall in the New Orleans Hilton, (right next door to the Pool/Spa where the CEDU conducted the first training of the FEOR for 2001), Outstanding crowd (see pictures), and of course there was Hardware on display.
A very big Thank You to Will Smithers for Hosting the Event, and Thank you Tracy for a fine job of Emceeing the evening.



Our Host: Will Smithers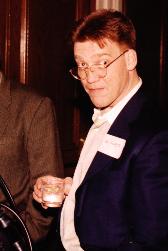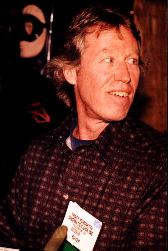 Our Emcee: Tracy Robinette
We of the Crestline Experimental Dive Unit also wish to express gratitude to you for providing a forum where the pleasures of Rebreathers and Rebreather Diving can be shared and celebrated.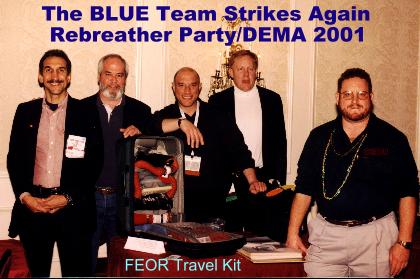 Detachment Team Blue of the CEDU.
"To Swim Is Human, To Dive Is SUBLIME"




Now On With The Presentation
---
(Links To These 2001 Rebreather Party and DEMA Pages)
Page O, Ms. February
Page 1, Rebreather Party After Action Report
Page 2, Speakers and Attendees
Page 3, Hardware from Party and DEMA
Page 4, FEOR Training at DEMA 2001
Page 5, A Thank You to Dr. Christian J. Lambertsen, M.D.



More information about Rebreathers/SUBLIME/and the CEDU can be found starting at Dr. Bob's The Home Page



"To Swim Is Human, To Dive Is SUBLIME"
And Remember CEDU's Mission Statement:
"To Design, Assemble and Use Homemade Dive Gear While Maximally Stroking Our Own Ego's and Maintaining the Merest Semblance of Sobriety for the Benefit of Mankind"