Crestline Experimental Dive Unit
spends a day with the
California Classic Equipment Divers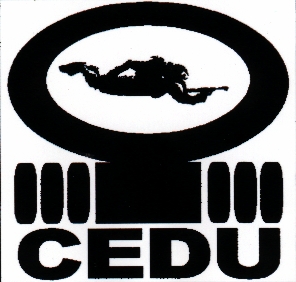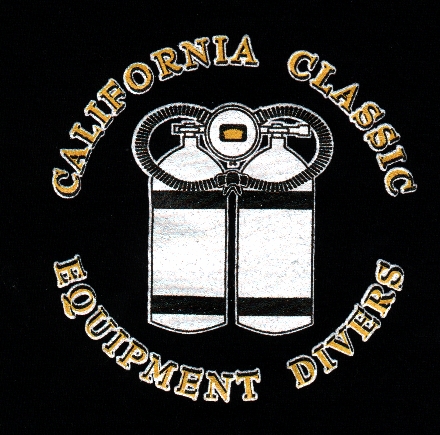 at the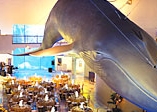 Aquarium of the Pacific
in
Long Beach, California
Another
Hard Hat, Rebreather, and Double Hose Day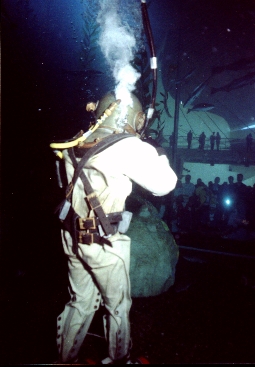 Hard Hat Diver looking out at the Aquarium Visitors
It was a beautiful Sunday the 17 of March, 2002, that the CEDU accompanied the CCED for a demonstration of Classic Equipment Diving in the Aquarium of the Pacific.
It was a special privilege to dive in the Aquarium of the Pacific, and to demonstrate antique and modern diving gear. Both major tanks in the Aquarium were used. The 65 degree Blue Cavern Habitat saw divers using all three types of gear. The warmer Tropical Pacific Habitat saw Classic Scuba and Rebreather Divers only, as it was not set up for the Heavy Dress.
Equipment dived included Heavy Dress (Hard Hat), Open Circuit and Closed Circuit gear.
The Heavy Dress divers used MK V and Desco helmets.
The Classic Open Circuit Scuba systems used Double Hose regulators on single, double and triple tank sets.
The bubble free divers were using both Closed Circuit Oxygen Rebreathers, and Closed Circuit Electronic Controlled Mixed Gas Units.
Three models of closed circuit rebreathers were dived: (1) The Prism Topaz, a very capable and state of the art Mixed Gas Electronic Controlled Rebreather, (2) The FEOR, a depth limited and more simple Manual Controlled Closed Circuit Oxygen Rebreather, and (3) The FEOR Light another Manual Controlled Closed Circuit Oxygen Rebreather, but with an Integrated Partial Pressure Oxygen Sensor and Display which opens the door to deeper depth use.
Some gear may be old, some may be new, and some may have been under construction as we dived, but all gear worked as advertised. It was a wonderful day at the Aquarium of the Pacific. We are all looking forward to next year.
A big Thank You to Pete, and all the other Aquarium staff who made this event possible.
Smile,
Dr. Bob
Director, CEDU
"To Swim Is Human, To Dive Is Sublime"
---
Note: Click on the following Thumbnail Links, to view higher quality larger image.
(The Thumbnail is only a small portion of the entire image.)
---
Open Circuit & Heavy Gear in Blue Cavern Habitat
Out of the Blue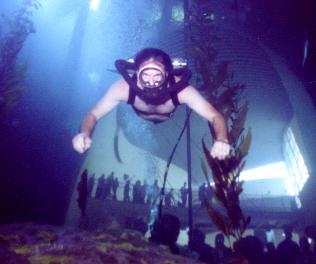 Rude Dog diving with triple tanks and nothing else....




Mark V Helmet
Desco Helmet
Jane filming diver
Rude Dog swimming behind Heavy Dress diver. (Note reflection in the aquarium glass.)





Brad, appearing as a refugee from the Tropical Fish Tank, was our most colorful diver.
Brad in a Blue and Yellow Wetsuit, Red Horsecollar BC, (and not seen), a set of Twin Yellow Tanks.
Jane filming some action.
Adam crosses paths with a Black Sea Bass




Pre dive staging of gear on roof.
Jane washing off helmets. A all gear and people got a hosing before entering the tank.
Dave preparing to take the plunge with the Triple's.
---
Rebreather Divers in Tropical Habitat: ( or FEOR Light meets PRISM TOPAZ)
FEOR Light meets PRISM Topaz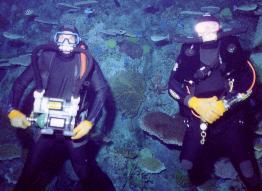 Dr. Bob's Field Expedient Oxygen Rebreather Light
meets
Peter Ready's Incredible Steam Machine Topaz.
(It was another great rebreather experience.)




Peter Ready diving his Prism Topaz
Erick diving the FEOR (ExCap)
Dr. Bob diving his FEOR Light.




Peter frolicking in the tropical fish tank. (This man was having just too much fun.)
Erick and Peter being check out by a Puffer Fish.
CEDU Detachment in Tropical Tank: Bob, Jane and Erick.
---
Rebreather Divers, Critters, and Behind the Scenes in Blue Cavern Habitat:




Swimming Leopard Shark (Triakis semifasciata)
Giant (Black) Sea Bass (Stereolepis gigas)
Shovelnose Guitarfish (Rhinobatos productus)
Some Behind the scenes images:






Next in line, Alan sits at the ready.
On the Roof with Mark, Rude Dog, Alan.
Erick and Rude Dog prepping Dave.
Steam Machines get a table for prepping.
Jocko providing adult supervision.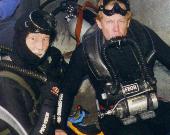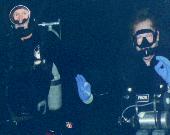 Pre-plunge, Dave and Erick make final adjustments. Erick pre-breathing the FEOR.
From the outside looking in. Dave and Erick engage the crowd.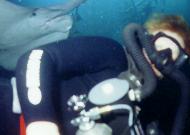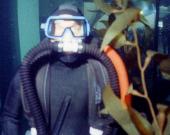 Bat Ray (Myliobatis californica) passing over Erick.
Bob hiding among the faux Giant Kelp (Macrocystis pyrifera)
---
A wonderful time was had by all...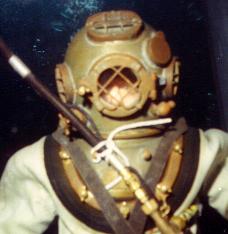 See you in the Tank Next Year Boys and Girls.
The End.
---
Links:
Steam Machines, Inc.
California Classic Equipment Divers
Aquarium of the Pacific, Long Beach, California
My Rebreather Main page
My Home Page
Hard Hats and Rebreathers
FEOR
FEOR Light
Image Credits:
1) Photo of whale in the Aquarium of the Pacific, was "lifted" from their web page,
2) All other images used on this page came from my camera(s).