Crestline Experimental Dive Unit
Honors The Passing of
Robert Scoles
---

(From Easy Reader Aug 16, 2000)
A special one leaves the beach for the last time
by Suzie Hanrahan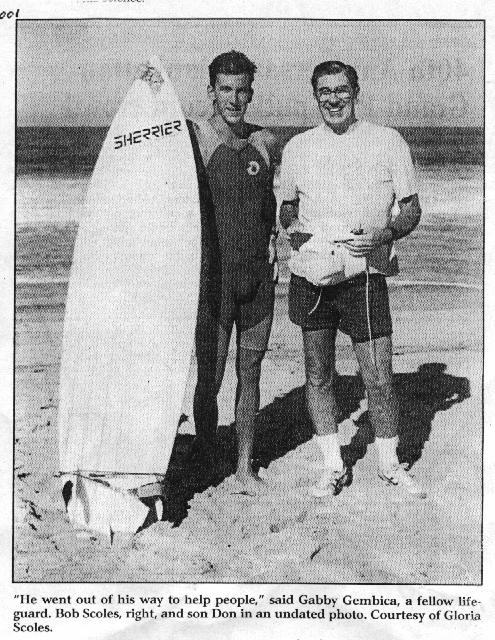 Robert Scoles, honored military saboteur and co-founder of the Junior Lifeguards program, has passed away, leaving behind him a legacy of courage, knowledge, and confidence.
The 80-year old Manhattan Beach resident died August 5 at Little Company of Mary hospital after a long illness. He swam competitively through his early 70's and was awarded an honorary Green Beret several years ago for his military service in World War II as an underwater demolition man.
During his long and varied life, Scoles worked as a lifeguard, teacher, administrator, and scuba instructor.
He pioneered the Junior Lifeguards program in the 1960's to teach kids about the ocean and train them as future lifeguards. The program has grown over the years in size and is one of the most
successful summer water activities of its kind.
Scoles was born in 1921 in Evanston, Illinois. He was part of Team 10, a top-secret military operation and a precursor to the Navy SEALS. He and other frogmen in the elite scuba team served in the Bahamas and the Pacific. They were in charge of sabotaging enemy devices and underwater explosives, clearing the seas for the Navy.
Scoles went to Occidental College and received a degree in physical education. He went on to USC and was awarded a Master's in Education. Years later he started a Scuba diving course at USC and was a teacher, and trained divers in LA County to become instructors.
"He was a really important part of people's lives," said Gloria Scoles, his wife. "He was kind of a one-man organization."
He was described by friends as a generous man. "He went out of his way to help people. He made himself very available to people, said Gabby Gembica, a fellow lifeguard and friend. "In all the 30 years I knew him he never said anything bad about anybody."
After the war, Scoles worked as a lifeguard, frequently at Second Street in Hermosa. He was an unbeatable swimmer and loved to surf. Gembica remembered Scoles as a traditional suffer with an original Volkswagon Woodie.
Until he retired in 1982, Scoles worked as a teacher, vice principal and principal at the Bellflower Unified School District. He was in charge of outdoor education and met his wife there, a sixth grade teacher in the district.
Scoles was passionate about teaching and began the Junior Guards program informally with kids hanging around his guard station. "He took a lot of the kids down by the beach under his wing before official approval by the County," said Donna St. Hill. Her late father, Don, was a friend and colleague of Scoles. "He was a lovely man, and he was always there for the children. He had a fantastic sense of humor."
Scoles won many swimming events, including the annual Pier-to-Pier swim. "He was one of the best and fastest ones there was. A lot of people envied him because he was so good," Gembica said.
St. Hill recalled how Scoles stood up with her at her second wedding because her father couldn't be there. "Bob was a very special one," she said. "Everybody will miss him. We were blessed to know him."
---
CEDU Remembers Robert Scoles
A Remembrance for Robert Scoles was held on Sunday August 25, 2001 at the Bahia Corinthian Yacht Club. Family members, friends, colleagues, competitive swimming rivals, and others he had touched were in attendance. They shared stories they had of Bob; some came from as far away as Singapore and Japan. Afterwards most of the attendees boarded boats and headed out to sea. A small ceremony from boatside was performed where his ashes were returned into the sea that he so loved.
OSS Buddies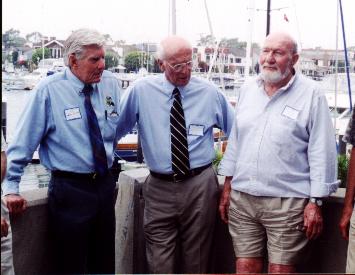 Jim Eubanks, Jim Long, Hank Waldon
CEDU Respects Robert Scoles
To honor Robert Scoles' participation in the OSS in WW2 (OSS Team "B" which became the UDT Team 10, Pacific Theater) a detachment of the CEDU was assembled. CEDU participated at sea by having divers with home built oxygen rebreathers enter the water and release a floral wreath up through the ashes. A smart surfacing of the divers behind the floating flowers, and a final salute to Bob's memory was performed. The divers then descended and returned to their boat. As a note, the home made oxygen rebreathers these divers were using were, in fact, functionally similar to the closed circuit rebreathers Robert Scoles and others, were trained on, and used operationally in WW2, such as in pre-invasion beach reconnaissance and obstacle destruction.
The CEDU Team was assembled two days prior to the Rememberance. A night (surf entry) dive at Malaga Cove, was made to rehearse procedures, adjust weight and trim, and make final preperations.
Some images follow.
CEDU Detachment for Remembering Robert Scoles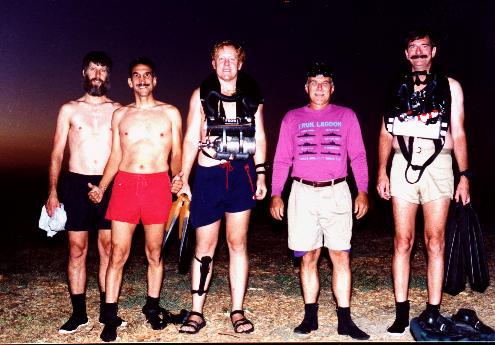 Jocko, Bob, Erick, Mark, and Brian assemble before the Night Dive
Night Visibility underwater is not great.
The only light anyone had was the camera strobe. All agree that it did not help our night vision.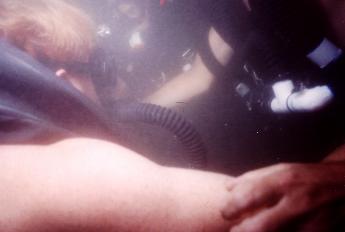 Close-in coordination using hand and arm signals.
Things got a little fuzzy after the dive.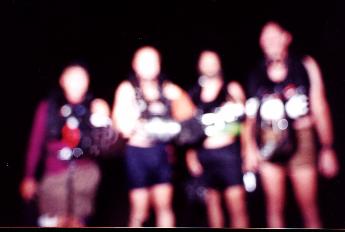 (Jocko wanted to see what a Nikonos 15mm underwater lens does out of the water.)

This training was important. Group coordination, assignment of mission tasks, equipment familization, and review of emergency procedures assured a safe and sane operation. Weight and balance for the ocean gear to be used was adjusted. A total flood out of one of the units was experienced. The problem on that unit in question was identified, and corrected, thus showing the benefit of a rehearsal.
The Wreath: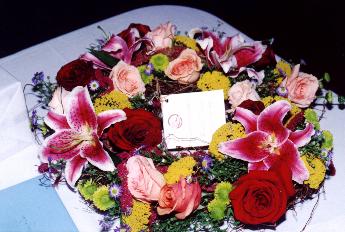 The Memorial Floral Wreath
The Divers and their Units Topside: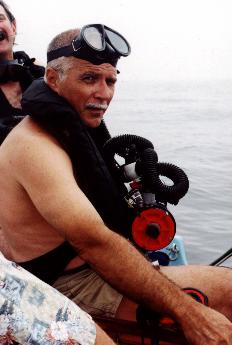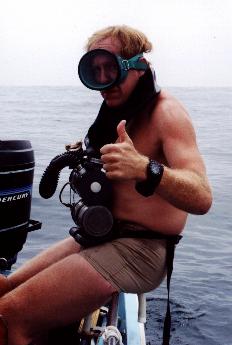 Mark with his Model 2 Erick with FEOR ExCap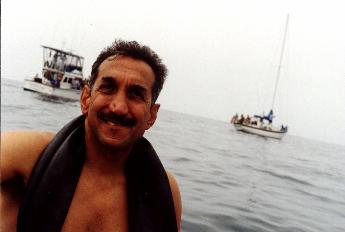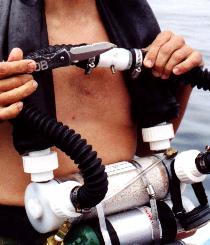 Bob with FEOR ClearView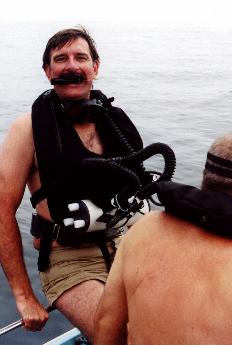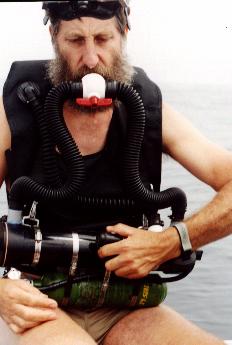 Brian with his HomeBuilt, Jocko with Marks Model 1
The Divers Working Underwater: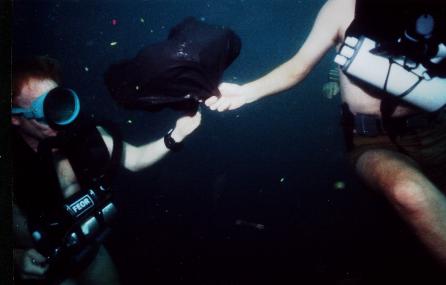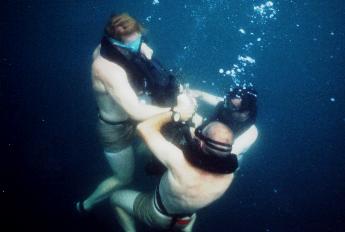 Passing the encased Memorial Wreath,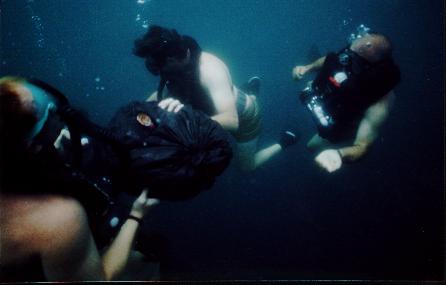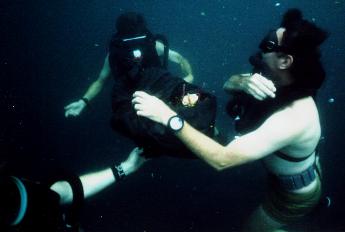 Removing the Wreath from its packaging,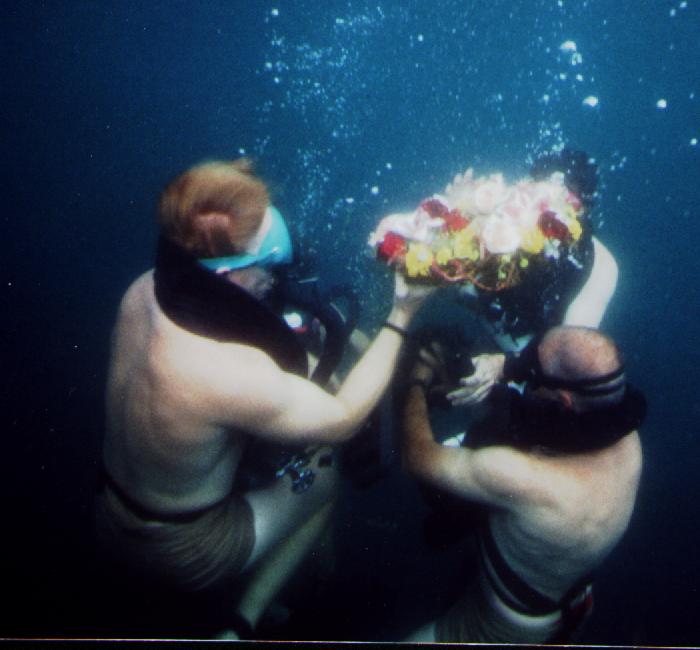 Bringing the Wreath to the surface.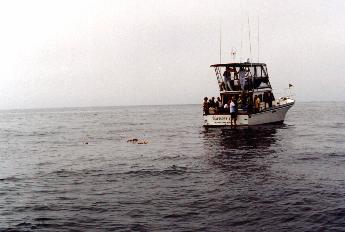 Memorial Wreath Afloat.
Back at the Dock: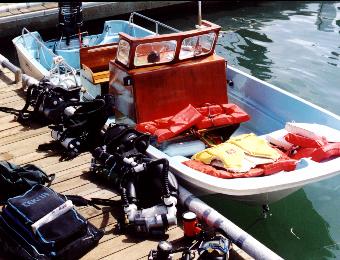 Divers delivery vehicle.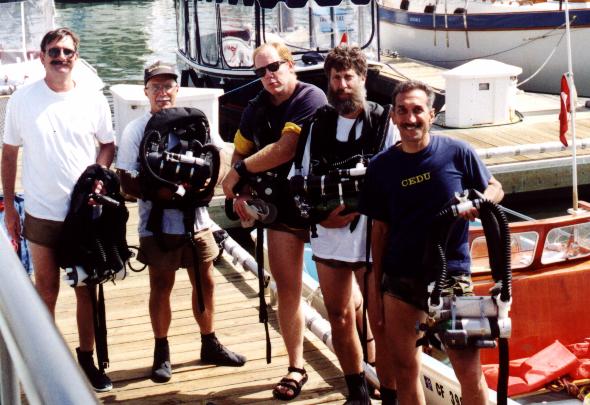 All swimmers present, and accounted for.

Rest In Peace Bob Scoles.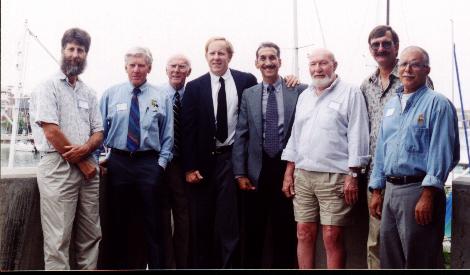 Jocko, Jim, Jim, Erick, Bob, Hank, Brian, Mark
---

(From Fayetteville Observer, Mar 7, 1998)
Swimmers still share a strong bond
By Tanya S. Blank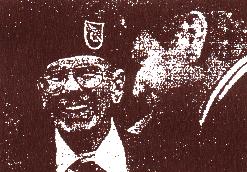 Robert Scoles, Left, and Robert Kenworthy are among the World War II swimmers honored with a memorial stone at the Army Special Operations Forces Plaza at Fort Bragg.
for their lives under enemy gunfire.






These days, Jim Eubank swims for his health. But 55 years ago, Eubank and more than 70 other Americans swam for their lives under enemy gunfire.
On Friday, the Veterans or Strategic Services dedicated a memorial stone at the Army Special Operations Forces Plaza in honor of the men's World War II service. During the war, the men served in the Central Pacific, Burma, Indonesia and the South China Sea as operational swimmers of the Office of Strategic Services Maritime Unit.
Maj. Gen. Kenneth Bowra, commanding general of the John F. Kennedy Special Warfare Center and School, told More than 100 people. sitting under tents that the honor for the swimmers was long overdue. "They were the pioneers in every sense of the word," he said, "and are owed the thanks of us all for pointing the way to yet one more area or warfare when Special Operations leads the way, today, as in the past."
The Office of Strategic Services was formed in 1942 to carry out clandestine operations throughout the world. During World War II, the agency collected and analyzed intelligence and planned and executed physical sabotage in support of military operations.
The agency was dissolved after the war, but its legacy passed to such groups as the Central Intelligence Agency and Special Forces.
Thirty-two of the former swimmers, who live across the United States, came to Fort Bragg for the dedication ceremony. After the ceremony, the men gathered for group photographs and shared jokes and old stories.
The men, who are now in their 70s and 80s, all proudly wore green berets on their gray heads. They joked that in their day their uniforms consisted of nothing more than swimming shorts.
"This whole group were a bunch of water rats and they loved the water, said Dr. Christian Lambertsen. Lambertsen, then a medical officer, trained the men as combat swimmers and pilots of one-man submarines. He also developed the Lambertsen Amphibious Respiratory Unit, which the swimmers wore.
Lambertsen is the founding director of the Institute for Environmental Medicine at the University of Pennsylvania Medical Center. At 80, he still works there.
They volunteered to get out of doing work," Lambertsen joked as he talked about his fellow swimmers. The men were recruited from other service branches to serve in operational swimmer groups. "They were told nothing but that if they did volunteer they'd get an extra $30 a month pay, retain their rank, probably get no more promotions and as a result of that would spend most of their time swimming for the rest of the war - which they did."
The men were touched by the memorial service and at seeing their old friends. Some of them get together for yearly reunions, but for others, Friday was the first time in 55 years they had seen each other.
"We are closer than a lot of us have been to relatives," said Robert Kenworthy, 75. "We swam under the Japanese's noses with a knife."
After the war, the men went on to careers as professional football players, soldiers, businessmen, even CIA agents.
Some of the men say the only time they go in the water now is to take a bath. But some, such as Robert Scoles, 76, of California, turned swimming into a career.
"He was the best swimmer we, had," said William Katsirubas, 78. "He was beautiful to watch in the water."
After the war, Scoles became a professional lifeguard in California. In 1992, before he suffered a stroke, Scoles was among the top 10 fastest senior swimmers in the world.
"I was supposed to compete in the 1942 Olympics," Scoles said, "But: the war put an end to that."
Many of the men had close calls during the war. Many have stories of being shot at in the water. Some told stories of swimming into machine-gun nests. But sometimes the swimmers' clandestine operations accidentally brought them American fire. Kenworthy remembers' picking up a piece of hot shrapnel meant for him. On it was printed the name of an American company.
In 1945, Eubank and John Booth had a mission to land two Burmese agents on the Burma coast. The men gave the Burmese agents opium as barter for information on the location of the Japanese. "We weren't 'dope dealers," Eubank said. "This was war." The men were in rubber boats paddling to the designated drop-off point. As they neared the beach, the Japanese sprang up and started firing at them.
"We, found out where the Japanese were the hard way," Eubank said. Japanese broadcasts later reported that Japanese forces had repelled an ' American invasion.
"But actually it was just me and Booth," Eubank said.
---

Secret Swimmers
Water units in World War II

Office of Strategic Services: A civilian agency of the joint Chiefs of Staff, charted to collect and analyze secret intelligence and plan and execute programs of sabotage in support of military operations during World War II. OSS was developed in 1942 and dissolved after the war in 1945. The OSS's intelligence operations and techniques served as a foundation for the Central intelligence Agency in 1947. The OSS's guerrilla operations also served as a springboard for the formation of Special Forces in 1952.

Maritime Unit: A branch of Strategic Services Operations specializing in getting men and material to and from enemy territory by water, developing special maritime equipment and training swimmers. The unit was the precursor of such units as the Navy SEALS and Army Special Operations waterborne operations.

Operational swimmer groups: Ranged in size from 12 to 36 swimmers. Their mission capabilities included maritime sabotage of enemy shipping and harbor facilities, clandestine hydrographic and inland reconnaissance and the raining of navies in special maritime operations.

Operational swimmers: The office of Strategic Services trained more than 70 operational swimmers from all branches of the Armed Forces. The operational swimmers were equipped with an amphibious respiratory unit that allowed them to swim underwater for extended periods of time and distance, swim fins, depth gauge, waterproof watch, compass and an assortment of specialized small arms and ordinance.

---

P.S. The use of oxygen rebreathers in the open ocean is not generally recommended by the CEDU as the dangers of oxygen toxicity resulting from inadequate depth control is a real hazard. Be Safe, Keep Shallow.
---
Crestline Experimental Dive Unit
More information about Rebreathers/SUBLIME/and the CEDU can be found starting at
Dr. Bob's Home Page
"To Swim Is Human, To Dive Is SUBLIME"
With Respect,
Robert Iannello, DDS
(Major, USMC, Ret.)