Dive Log: 4 November 2000
CEDU Det. Dives the Yukon
As usual it was zero-dark-thrity when Orders were Issued to the Command Staff of the CEDU. "Sweetie Wake-up" was officially recorded at 0300. "Old Blue" our terrestial SDV (Sweetie Delivery Vehicle) already loaded and ever at the ready was all set for the 124.5 mile trip to the boat launch in Mission Bay. The CEDU's IBT (Inflatable Boat, Tiny) was launched, prepped and overloaded for its part in the mission. (The IBT never made it onto a plane, we just plowed to the site: Location N 32 46 80 L, W 117 17 12 Lo)
Overloading the IBT consisted of two adult divers in Full Ocean Gear, total of 4 steel air cylinders, full fuel load, ocean anchoring capability, Video and Still photographic capability, various Com and Nav gear, and a bottle of H20 to celebrate with.
The Pacific Lake greeted us with clear skys and calm seas. The beautiful conditions were only exceeded by the dive.
The HMCS Yukon was placed as a Diver Friendly attraction in the San Diego "Dive Park" known as Wreck Alley. The Yukon was a Canadian ship of war (destroyer of the Mckenzie Class, w/ torpedoes and 3" guns), purchased, environmentally cleaned, and rendered diver friendly by "SwisCheesing" the Hull. (Many holes were cut into the boat to allow a safer and easier diver access. These holes by the way, prematurely caused her to sink a day early at the park.) The Yukon is lying upon its port side in about a hundred feet of water.
The Dive, what can I say, was great. This is a Big Fun dive. A great dive to Introduce divers to Wreck Diving, and a super Training Site for teaching Wreck Diving techniques. (I can see many dive opertions geering up their wreck diving classes.)
It wll be a dive to return to many, many times. A few pictures follow.....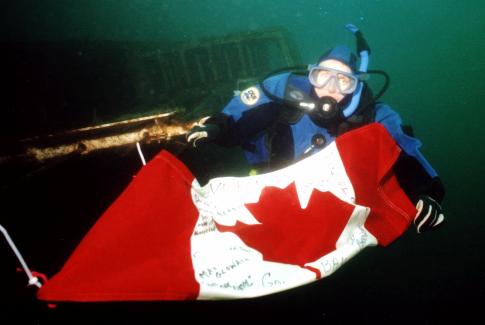 An autographed Canadian Flag greeted us and added a nice bit of color.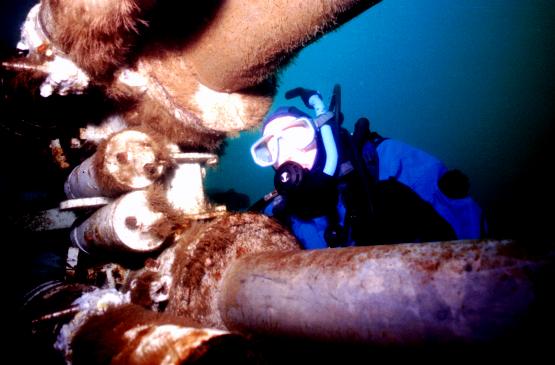 Jane between the 3 inch "guns". (Actually guns removed, "pipe" replaced.)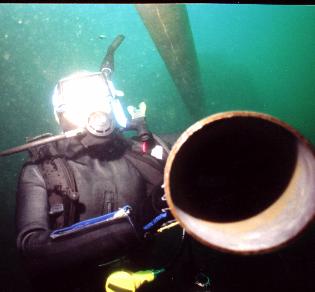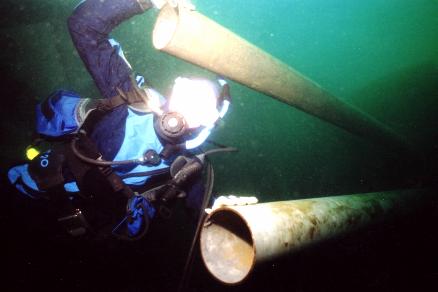 The Business end of the 3 inch "guns". (Note lack of "rifled barrel" in pipe.)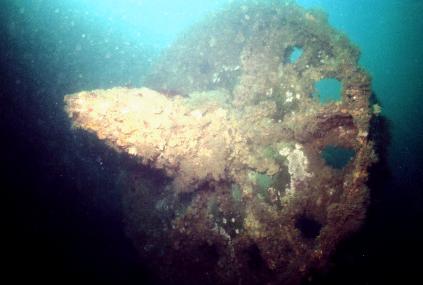 The Starboard Propeller.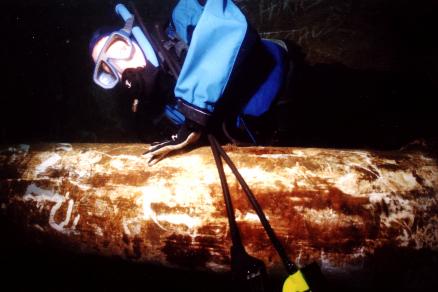 External Starboard Propeller Shaft.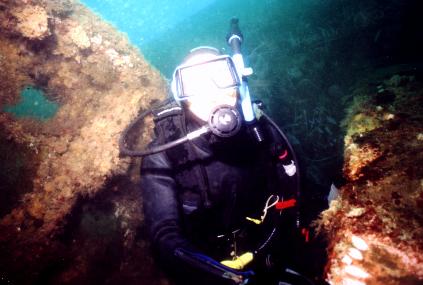 Bob, forward of the Starboard Propeller and its Mounting.
(Hull is behind Bob's left shoulder.)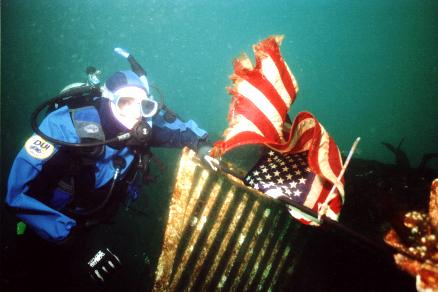 The US Ensign.
Links
Project Yukon
Pictures from MCD (Marine Camera Distributors)

And what else is there to say, the Yukon is a great Canvas.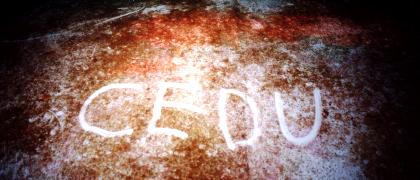 The YUKON is CEDU Approved!