CEDU Presents The answers to QuiZ #1 for the Rebreather Listserve.

What is pictured on this page?

(Answer given below)

Answer will be given in two days on 2/07/2002.
Those with correct answers will be acknowledged.
(Note: Richard Pyle, please disqualify yourself.)
send answers to me at (quiz over, don't send any more email)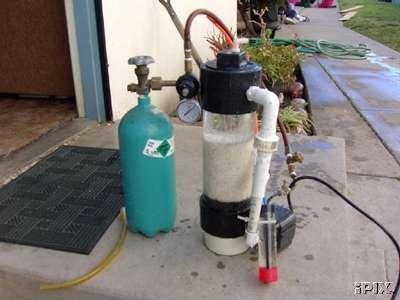 ---
Believe it or Not, this was found on eBay listed as
Calcium Reactor Co2 Ph Monitor
Item # 2000937223
[link]
The Description States:
This is a self made very functional Calcium Reactor. It comes with everything needed to safely and easily maintain calcium levels
well above 400ppm. Reactors sell for much more then my asking price, then you have to spend another $200 to get them
going. This Reactor has served me for 2 years. New propeller about 90 days ago, runs quiet. Unsure about using a reactor?
Don't be, I'll put all you questions to rest. Know your getting a great deal. Pinpont Ph Monitor with NIB calibration fluid. 5lb
Co2 bottle hydro 2001 (due every 5 years) Co2 guage single stage (why not dual? Co2 has a high preasure thus the second
quage is useless, besides, count on it running empty about every 6 months. I believe the substrate can be used by the new
owner but that is at your discretion, thus this reactor is ready to run. It doesn't look as pretty as professional built? I believe I
did a pretty good job, but you can stick it in a stand where nobody will see it :-) Please look at my other Reef related auction.
And bid with confidence. Buyer pays actual shipping. Check or M.O. is acceptable Paypal is perferred. Do an Ebay search of
these seperate items in completed auctions, my asking price is lower then if you set up any other reactor. Again I stress This
Reactor is easy to set up and easy to maintain levels at a boring 400+ (meaning you'll never stress again, reef keep in
peace)"Bye It Now" Pay via PayPal and thats it! Deals Done! I pay Shipping!!! Thank You and Happy Bidding.
---
Results:
Like most incorrect reply's, I also thought it was a scrubber test bed. (Actually I thought it was part of one of my early prototypes surfacing to haunt me.)
A couple of you pegged it right on as an aquarium accouterment.
Congratulations go to Jeremy Downs, and Jerrery Mahon for the correctly identifying the picture.
Thanks to all for your response, both on and off the list.
Till next time...
Smile,
Dr. Bob
---
Other info about TAT Kalkwasser or Limewater can be found at [link2]