Crestline Experimental Dive Unit
Participates in the
71st La Jolla Rough Water Swim
9 September 2001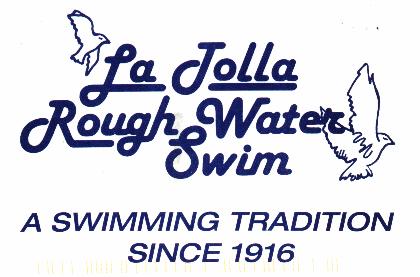 A CEDU Tradition Since the Year 2000
Sunday , 9 September 2001, was my second participation in the La Jolla Rough Water Swim. I now know why they call it the La Jolla Rough Water Swim. I have been initiated !

The Course Map.
Last year's participation was a great introduction to the ocean mile at La Jolla. Conditions couldn't have been better. Warm air, warm water, calm winds and flat seas contributed to a very fast course. In fact, the conditions were so good that the top swimmer set an all time course record during that race. And I was satisfied with my time in that first attempt.
The object for this year was to improve on my performance, and catch up on my friend and swim coach Erick.
More training swims were conducted this summer, and in fact I did become more efficient on longer swims. I was developing a pace that I could maintain for extended times, and I learned breathing techniques for when the "waves are larger". (Thanks Erick.) One of the last training swims off Palos Verdes was in higher seas (about 2+ feet), and we did over a mile with a few stops for critiques. I was ready!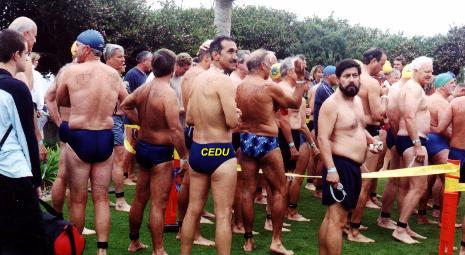 Sea Stallions in the Paddock awaiting their turn.
Well I may have been ready for 2 foot seas, but I was not ready for 3-6 foot seas with 8-10 knots of wind. It was a different race this year. It was dark, overcast, cold and not very pretty looking. There was white water to be seen in the ocean. Some people actually refused to swim in the event. (Overheard by my wife who told me later.) And yes, some swimmers had to be picked up out of the course and given an inflatable boat ride back to shore. (It was a very strenuous and exhausting event.)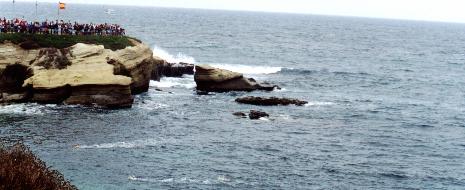 Yes, there was white water out there.
The conditions completely eliminated any style or finesse I may have developed this past summer. Each stroke was an event all to itself, it was like wrestling with the waves. Each breath was a salt watered-down learning experience. I knew that I would finish, (one stroke at a time...), but I knew that my time would not improve. (I really wanted to show an improvement.)
But finish we did, and am Very Satisfied with that. And though everyone's times were slower than last year, I am actually closing the gap on Erick. (Not that I am in competition with him or anything. But I did gain 32 seconds on him this year. At this rate, in three years I should beat him. )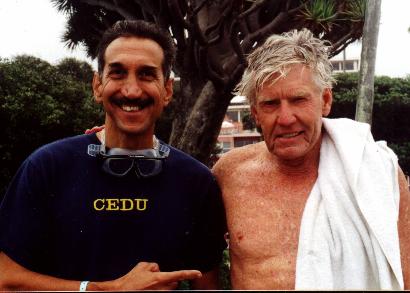 Octogenarian Jim Eubanks, still swimming up a storm and embarrassing us young-uns.

It was A fine day at the races............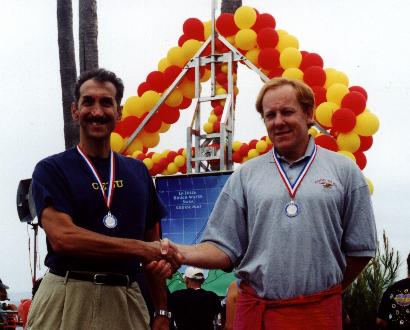 .............. with Friends........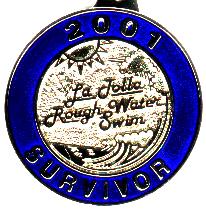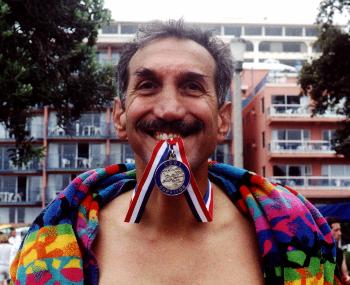 ........ bringing home Medals,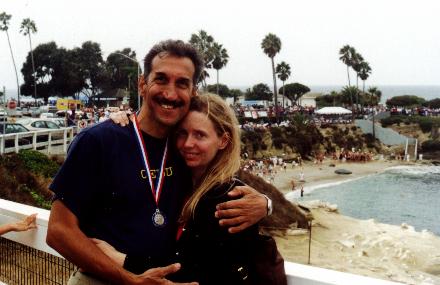 ...and getting a Big Hug from my Sweetie.
The very best reward !
Following are some statistics:
Weather : 9 Sept. 2001
Water Temp: 66.4 degrees
Air Temp: 63.1 degrees
Wind: 8-10 knots, West
Wave Height: 4.3 feet average in ocean
Place Overall / Place in Division 2001 Times ___ 2000 Times
1 / 1 20.46.40 (The overall winner) 17.55
289 / 1 38.03.10 Jim Eubanks Age:85 31.07
368 / 60 44.33.80 Erick Age:38 37.07
378 / 51 45.50.80 Me Age:50 38.56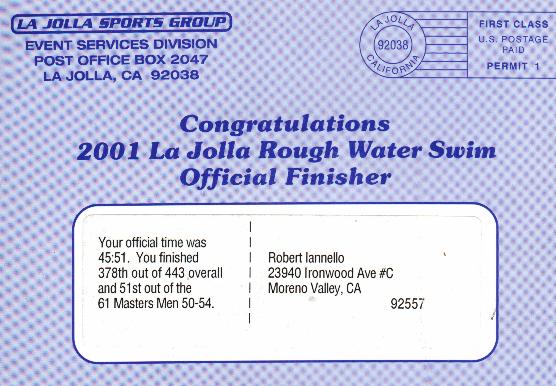 Another Rough Water Swim comes to an end. See all you CEDU applicants next year in the "pond".
Smile,
Bob
2000 LaJolla Rough Water Swim
Link to Directory