Bob and Keith's Excellent Harley Adventure Part II,
(complete with happy face :-)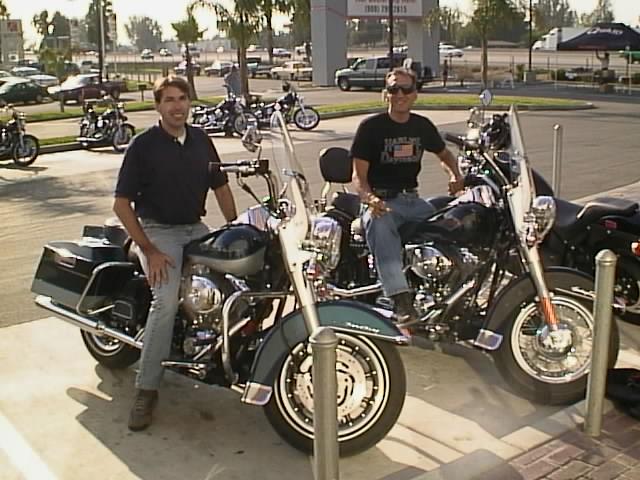 (Keith and Bob very happy after successfully logging 260 trouble free miles in 24 hours.)
If you remember from the last episode, the HOG Boys were not the most happy with their rides.
The dealer offered another day's rental at no additional charge. Ever anxious for a new adventure we stepped into the world of Milwaukee Iron once more. Keith again rode a Road King, this time with hard luggage side bags, and I got another Heritage Softail, this one did not have fuel injection, just a carb. This time the bikes were Operational Ready, and Full Systems Capable. In summary: All systems worked well.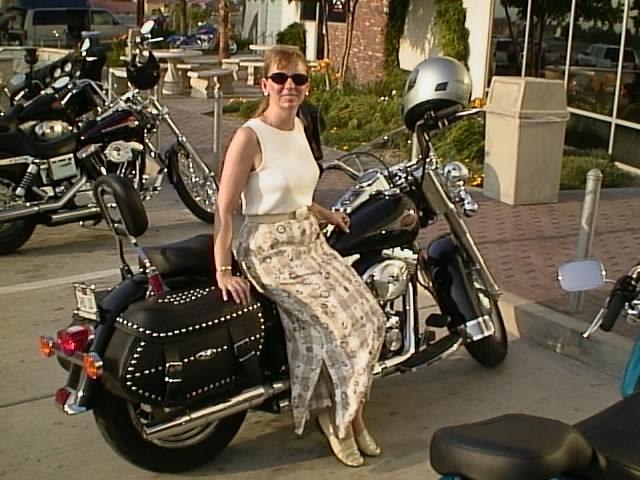 (Jane testing the kick stand on the Heritage Softail)
After picking up the bikes, we again had a fine dinner with Jane at Napoli's Italian Restaurant. After a short stop at Keith's, it was time to make tracks on Interstate 10. We rode to Brentwood, where we stayed the night (Keith's fiancée's apartment). As the night was still young, a quick phone call welcomed us to Ron's house in Bell Air where a beer and fine cigar awaited. (Thanks Ron)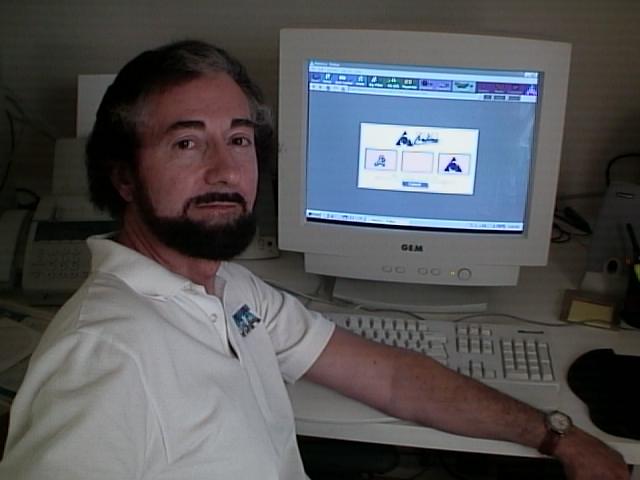 (Ron at play.)
At Ron's house, as circumstance would have it, a television program on the history of Harley Davidson was being aired. (How motivating). The next show was a program on real police chases that ended with a 120mph motorcycle chase where the rider drove/crashed into a city bus. Not a pretty sight as the rider bounced off the side of the bus with his head doing about 60mph. How sobering, but the need to ride again called, and we bid goodnight to Ron.
Returning to Brentwood we retired for the evening to get good and rested for tomorrow, as the rest of our adventure would continue in the AM.
In the morning the bikes started up fine, and it was a short ride to the beach. A pleasant cruise along the ocean on Pacific Coast Highway to Malibu ended at Gladstones On the Beach for breakfast.
After hogging down (just had to say that) breakfast, we continued up the coast a-ways. We stopped at Robert Meyer State Beach for photo op. and a smoke.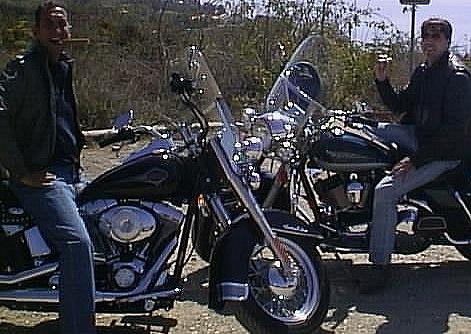 (The bikes were not a'smokin, we were!)
It was time to depart- the- pattern as I had some business to do before we left the coast. The next day I was to compete in the 70th La Jolla Rough Water Swim. It is an open ocean swimming event, and I entered the one mile/masters category. (This swimming event was encouraged by friend Erick as you may have guessed.) So every chance I get, I try to do a little swimming at the beach. The beach in question where I have been training is down in Long Beach. Thus it was off to Belmont Shores in Long Beach, for another one-half mile training swim.
Tooling to Long Beach was a breeze. Was nice to use the Harley as a Swimmer Delivery Vehicle (SDV) where a bathing suit, towel, and goggles fit perfectly. I had a nice training swim as Keith kept time. (Took me 20 minutes for a leisurely half mile.)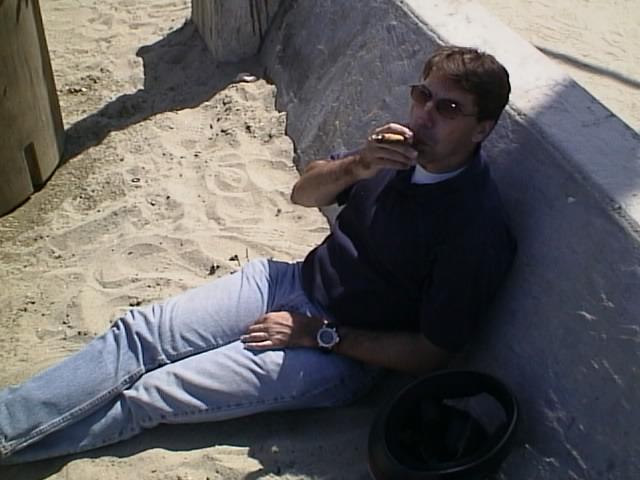 (Swim coach Keith, with Chronometer and Cubana.)
The clock was ticking, and we had to head back to the Inland Empire for rental returns. So with ashes flicked, and swim trunks stowed, the behemoths were brought to life once again. (Thank god for electric starters, can't even imagine kick starting these engines. I can remember almost loosing a leg trying to kick start a BSA 441 once.)
Ride back was nice, though I hated to leave the beach. We switched bikes for a short time, and both liked the ride of the Heritage Softail over the Road King better. (Lower center of gravity, less vibration, and more comfortable handlebar position. All opinions are subjective of course.)
Bikes were returned safe and sound. Dealer and riders were very happy. (Oh, the dealer had some kind of a party/open house this day with music/food/vendors/etc. Seems like the dealerships alternate these open house types of party. At first we thought it might just be a celebration of our safe return , but no. An interesting marketing technique, as Harley owners now have multiple destinations to ride to on weekends, and share the ''fun", meet other riders, see other dealers, have lunch, etc. A very effective manufactured party, and multi level marketing strategy. How can you pass up free hot dogs, sodas, and an on site tattoo artist....we did! Many others did not)
24 hours and 260 miles later all went well. Guess I will have to get one of these things some day, they are great toys. Though to be honest, I may not be ready for one right away. What I am saying is that I may not be man enough for one yet. To tell you the truth the past 24 hours were not perfect, I did have a couple of unforeseen events occur...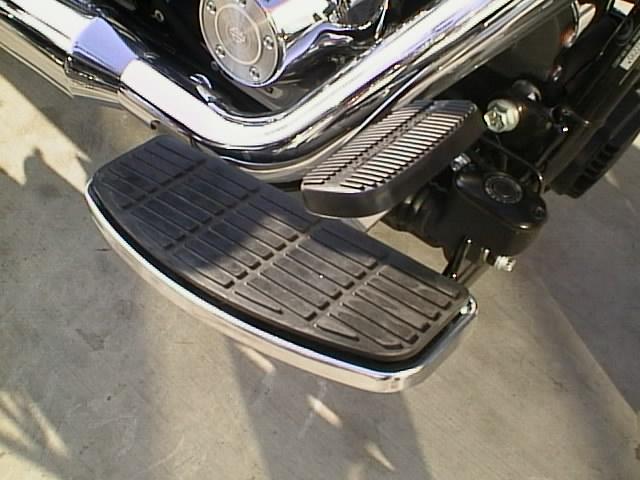 (Foot rest of Softail)
The foot rest of the Heritage Softail is my friend. Even though last week as I forgot that this Harley is not a big black Yamaha 175cc dirt bike that you can lean over like I used to do 25 years ago. I leaned it too much in a turn and scraped the foot rest on the pavement. It got my attention, but did no harm. (Oh, Jim is that what you mean when you advised me that these big bikes do not have the ground clearance that I was accustomed to?) Well this week I (though I should say the foot rest) had another encounter, or three with the pavement. This time the velocity was zero. Yes, I must admit that on three occasions while I was just standing there, once stopped at a light, once stopped on an down inclined driveway, and once at the gas pump, I leaned the bike beyond my ability to hold it up...and Yes it leaned down (do I use the word : fell) and rested on that foot rest. I thought the bike was going to fall down to the ground and crush my body under it, but it just tilted till the foot rest contacted the ground. No other part of the bike touched anything, almost like the foot rest was acting like a kick stand. Thought I never released my death grip from the handlebars. With much sweat I was able to upright the bike the first time, though I had to climb off it and lift from the down leaning side with all my might. The next time this happened we were entering the state park, a down ramp that ends in a non- paved surface. I was a little apprehensive to be driving on the dirt, and the moment I stopped, pointing downhill on an angle to it, the bike went over to the foot rest. Keith's help was needed on this one for sure. And finally, at our last gas stop,... I thought I put down the kick stand...er, ..what can I say. Thanks again, Keith. ( What is the moral of this story you ask..., maybe I'm just not used to the bike... Maybe I'm just not man enough for this bike and need to build up some muscles,.. or should I consider something smaller like a 'ladies' bike? I'll let you the readers make suggestions.... :-)
Motorcycles are fun. One day I just may have to get one. I am honestly considering picking up a police bike at auction (dare I say a Kawasaki 1000) just to see if I will use a motorcycle enough to justify the cost of a HOG. (And after all, if I am prone to dropping these thing left and right, I may just as well use a K1000 as a training bike and trash it.) Anyway I have been checking out the police auctions lately. Will let you know what I eventually get. But in the meantime, Renting brand new Harley Davidsons occasionally is definitely a way to go.
See you all soon.
Varroooooooom Bob
P.S. The following day Erick and I did swim in the La Jolla Rough Water Swim. My time for the ocean Mile was 38minutes 56seconds, and Erick did it in 37minutes 07seconds. We were in different age categories so we did NOT directly compete. (Yea, Really!). For your info the winning time overall was 17m55s, and a man named Jim Eubanks who is 85 years old finished in 31m07s, winning in his age group. Wow!
It was a great weekend. Many more happy faces.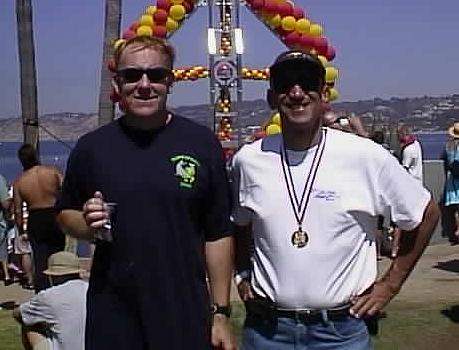 (Erick and Bob Post-Swim 'with the Gold)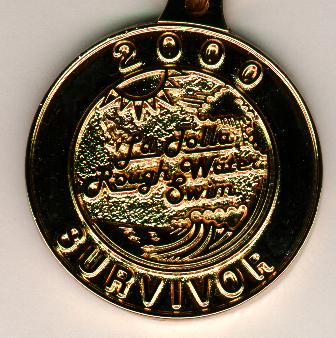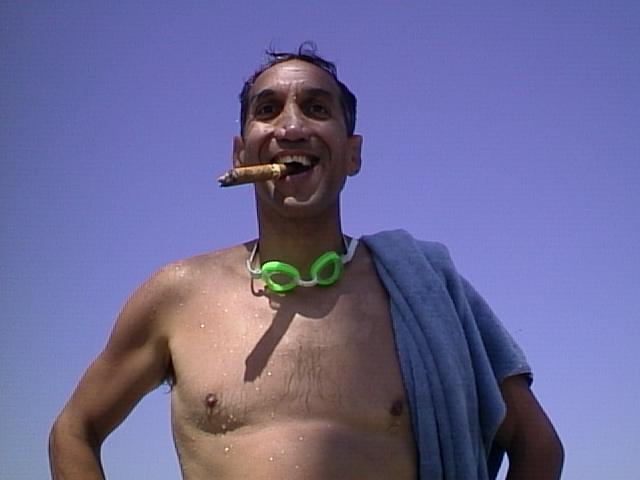 (Gold Survivor's Medal) (Open Road or Open Ocean, just another playground. Enjoy.)