The
Crestline Experimental Dive Unit
Presents The Latest
FEOR
(Field Expedient Oxygen Rebreather)
Open Water 1
Closed Circuit Rebreather
Certified Diver
Jane Rogan
CEDU Certification #OW003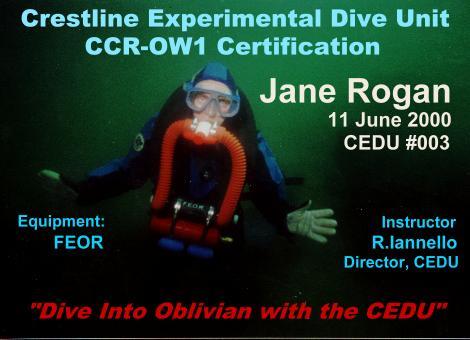 On June 11, 2000 Jane Rogan became the latest FEOR Open Water Certified Diver. She now joins the ranks of many other famous Open Water Home Built Closed Circuit Oxygen Rebreather Divers.
Be it Known that in the vicinity of King Harbor, California, Jane Rogan took the Plunge and entered the Ocean in dry suit configuration and with the FEOR as the sole source of life support. It was but a simple scaling of a four foot high concrete barrier wall, and then a descent down rock boulders to the ocean water waiting below. Timing the surge and the passing of coastal patrol craft just perfect, she made a flawless entry.
Dive proceeded as planned. All certification requirements were met. (1) Enter ocean, (2) Submerge, (3) Breathe in, then breathe out. (4) Repeat #3 until you suck the oxygen tank empty, (5) Exit ocean.
Any other activities accomplished is considered Extra Credit. On this dive Jane earned Extra Credit by discovering and playing with discarded fishing rod, collecting fish bones, recovering a mushroom anchor, (just what our new dinghy needed), identifying over ten species of marine life, and killing two of them.
Jane has earned a great big Congratulation for her accomplishment. We at the CEDU wish her well in her rebreather diving career, and look forward to see her progress in the never ending stepping stones of more advanced certifications. (Such as CCR-OW2, Night Rebreather, Rebreather Navigation, the Deep Oxygen Course, Rebreather Close Quarter Combat, and the Introduction to Underwater Demolitions,( aka the Field Expedient Wreck/Reef Creation Course), just to name a few.
Some highlights of Jane's Rebreather Training: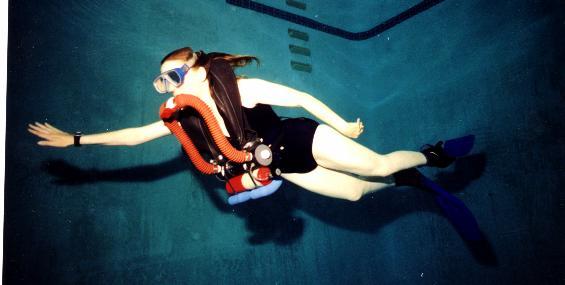 Jane swimming in the CEDU Training Tank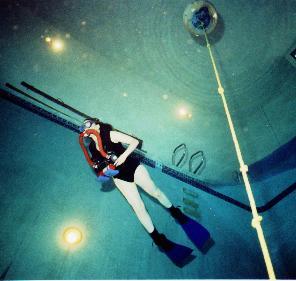 Jane practicing motionless neutral buoyancy control.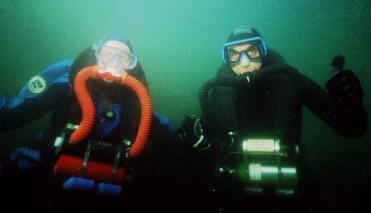 Jane getting a "thumbs up" from the instructor, for holding hands and flirting..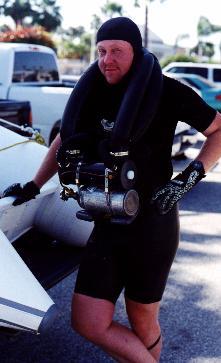 Erick (photographer) before the dive, sporting the FEOR Ex-Cap2,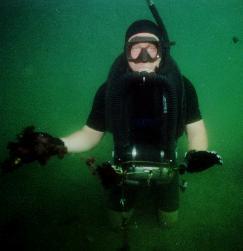 then untangling fishing hooks prior to the photo documentation.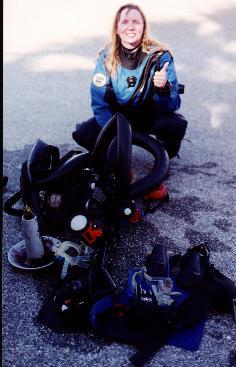 Jane, post dive with Mushroom "pickings".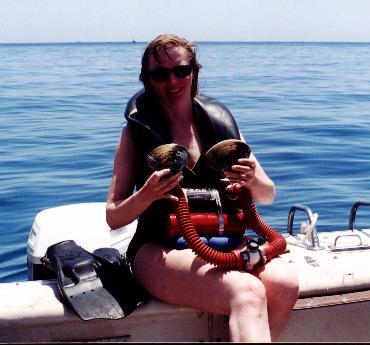 To the victorious newly certified CCR-OW1 diver, go the spoils.
Hunting the Wile and Elusive Pismo Clam.
Jane Rogan,
our latest Certified Open Water Closed Circuit Rebreather Diver ,
The CEDU Congratulates You on a job well done.
And Remember:
"To Swim Is Human, To Dive Is Sublime, To Suck Thine Own Bubbles Is Extreme".